Practical life
This is the heart of our Montessori classroom. Always a hive of activity!
Children find comfort in activities that resemble home. They prepare their own snack and care for their classroom environment. They learn lessons on personal hygiene and self help that they will incorporate into their lives at school and outside. These works are designed to boost fine motor control and hand and eye coordination.....important prerequisites for writing. Multi step, purposeful activities train children to concentrate on the task at hand and work with mindfulness. This will be essential for them while working on advanced academic subjects, like Math and Language.
Grasping helps hone fine motor skills and concentration. It also crosses over the mid-line — right hand crosses the body to the left side and vice versa, an important part of brain development.
Apple coring and slicing is a great practical life activity and can be an important part of preparing and sharing a snack. Yum!
The purpose of the dressing frames is to build concentration, coordination and control of movement, all the while encouraging children to become more independent as they learn to care for themselves
Sensorial
Children learn best through sensory experiences. They have a natural tendency to touch, manipulate and respond to stimuli around them. The Sensorial area of our classroom helps children modulate their muscles and focus each of their senses in order to form relationships between the various concepts of shape, size, length, color etc.. This refined perception of sensory stimuli through concrete materials allows them to form connections between more complex and abstract concepts. Sensorial lessons involving sequencing and categorizing help develop a mathematical mind.
Language
Children between 3 to 6 years of age are naturally predisposed to learn languages.
Our well planned lessons guide them through the various stages of language development. Sandpaper letters are used to help children develop a muscular memory of letter formations, while attaching corresponding sounds to them. Subsequent lessons help them in composing words by connecting these sounds, decoding words, composing sentences and writing on paper! Parts of speech, like noun, verb, conjunction etc., and their functions, are introduced using ancient grammarsymbolism and practical exercises.
Math
Our math area is a constant source of joyful explorations for our children!
Children at this age, cannot grasp the existence of any concept or idea outside of what they can feel or perceive through their senses. Hence their mathematical training starts by putting objects representing solid quantities into their hands..... a single bead for 1 unit, a 10 bead bar, a square made of 100 beads, and 1000 beads connected together to make a cube. All mathematical operations, addition through division are experienced sensorially, first. They progress from these concrete materials through increasingly abstract lessons, finally leading to math problems on paper.
Culture
This rich curriculum refreshes the children's minds and keeps them motivated with enticing lessons from science, nature, geography and culture. Puzzle maps, flags of different countries and models of landforms are introduced. Hands on science experiments satisfy their natural curiosity and encourage critical thinking. Children are made aware of the composition of the entire universe, the world we live in and their own special place in it. They rise above political boundaries and learn to accept and appreciate the differences between one another.
activities in the classroom
Art Enrichment with Miss Heather - In The Oak Room, bi-monthly art enrichment help children build their artistic vocabulary, skills and confidence. Children are exposed to a wide variety of artists while providing direct art instruction in technique.
Music Together® with Patricia Price - Music classes build on your child's natural enthusiasm for music and movement. The program is based on the recognition that all children are musical.
Spanish with Señora Landoña - Children learn Spanish through Montessori lessons, everyday conversation and communication, songs and reading.
Pretzel Kids® Yoga with Mrs. Legiec - A children's yoga curriculum, modeled after effective classroom educational programs. The Pretzel Kids curriculum is full of innovative and original games, breathing techniques, warm-ups, and other teaching techniques.
Montessori Movement Matters® - This program is in support of Dr. Maria Montessori's own notion that movement is an essential factor in the physical and intellectual growth of children. Scientific research shows that movement and cognition are closely related.
Afternoon enrichment
Science with Mrs. Mathur
All About Me with Mrs. Rouse
Special Story with Mrs. Mathur
Peace Ambassadors with Mrs. Legiec
Cooking with Mrs. Mathur
Special celebrations throughout the year
Birthday: "The Earth Goes Round the Sun"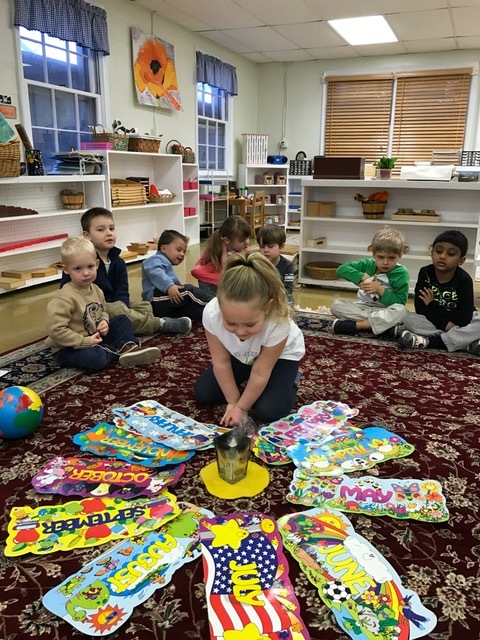 Thanksgiving
Holiday program, celebrating Diwali, Hanukkah and Christmas
Chinese New Year
Spring Soiree
Extracurricular offerings
Travelin' Tumblers® with Miss Tricia - Our classes begin with a musical warm-up that focuses on stretching. The following segment, the tumbling portion, is the core of our program and concentrates on building manipulative loco-motor skills with the use tumbling equipment and props to create a dynamic circuit. The children practice turning, hanging, swinging, jumping, catching, balancing, climbing, stepping, and rolling while exploring space relations (under, over, distance), lateral movements, and speed variations.
The Little Actors Studio with Miss Patricia - In class we build on children's creative imaginations. We have fun playing theater games, role-playing, improv, storytelling, and bringing Stories to Life.